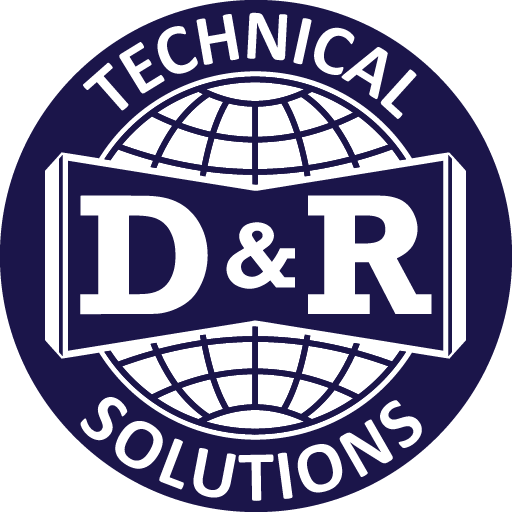 Technical Manuals
D & R's technical manuals staff consists of technical writers, illustrators, desktop publishers, and editors. This division of labor allows each discipline to focus and excel in their area of expertise.
Operation and Operator Manuals
Maintenance Manuals
Parts Manuals and Illustrated Parts Catalogs
Software User Manuals
Quick Reference Guides
Our technical writers are dedicated professionals who possess in-depth knowledge of a broad range of technical subjects, including electrical, electronic, mechanical, hydraulic, and pneumatic systems. They are fully capable of working with raw engineering data such as drawings, specifications, MACs, test procedures, program review documents, bills of material, etc., to produce polished publications.
Equipment Description
Functional Description / Theory of Operation
Troubleshooting / Fault Isolation
Preventative Maintenance
Corrective Maintenance
Like our writers, our technical illustrators are able to start with any type of source data to create artwork to support narrative or procedures in the associated manual. D & R illustrators are experts at creating isometric and exploded graphical images to support operation, maintenance, and parts manuals.
The desktop publishers merge the efforts of writers and illustrators into a cohesive product meeting all style and format requirements. If there are electronic document requirements such as a hot-linked PDF or XML, the desktop publishers apply the linking and tagging. All work is reviewed by an editing team to check for errors and maintain consistency.
Commercial Manuals
A large part of D & R's commercial work is for the transit industry, which is described in detail here. Our experience also covers mail sorting equipment, packaging machinery, video surveillance equipment, general aviation systems, engines, transmissions, computers, and a host of other equipment and system types. These manuals have ranged from a few pages in size, to multi-volume sets, to properly parsed and validated XML.
BOUND HARDCOPY, B/W & COLOR
ADOBE PDF, FULLY-LINKED
XML / SGML, YOUR DTD OR OURS
WEB-BASED HTML / DHTML / HTML5
IETM SOLUTIONS, INCLUDING CUSTOM CENTRALIZED DATABASES, CLOUD-BASED
S1000D DOCUMENT GENERATION
WORD DOCUMENT TO S1000D CONVERSION
Military Manuals
D & R has researched, written, illustrated, and published technical manuals for all branches of the US military. We are experts with current standards such as MIL-STD-3001 and MIL-STD-40051, including associated XML requirements. The full extent of D & R's MIL-STD experience goes back over 20 years encompassing a wide range of legacy military specifications and standards. Military technical manual or technical order development often accompanies a larger Integrated Logistics Support (ILS) effort.
COMPREHENSIVE SOLUTIONS INCLUDING ILS, MANUALS, AND TRAINING
EXPERIENCED WITH MIL-STD REQUIREMENTS
UNDERSTAND THE INTERRELATIONSHIPS BETWEEN ILS PRODUCTS
MANUALS INFORMATION IS CONSISTENT WITH OTHER SUPPORT
D & R's writers are skilled at working with logisticians and Logistics Management Information (LMI) as required by MIL-PRF-49506 to produce manuals consistent with the equipment's maintenance concept and Maintenance Allocation Chart (MAC). We understand the relationships between the LMI, MAC, Provisioning Parts List (PPL), Repairable Parts and Special Tools List (RPSTL), and manuals. Dependent on project requirements, D & R develops these products, or uses those provided as Government Furnished Information (GFI), to manage manual development ensuring that the manual's procedures, nomenclature, tools and test equipment, parts information, and equipment hierarchy are consistent with the system's other logistic products.